Change can be hard. That's true for us individually but it's even more true when we're trying to change the systems in which our work, including education, takes place. California's approach to curriculum and instruction offers a case in point.
The decision about what gets taught in any individual classroom ultimately comes down to a teacher's choices. But those choices reflect a series of cascading events and priorities. Meanwhile, state leaders can dramatically influence those choices through California's curriculum guidance and expectations. 
But again, changing the system in a way that changes individual practice is hard. It requires knowledge, political savvy, and persistence. That's why my admiration for Ten Strands and its work continues to grow. Promoting environmental literacy through state policy actions was a brilliant strategy. Inscribing California's Environmental Principles and Concepts into the Education Code created the systemic foundation for environmental literacy. California is now well-prepared for making the kind of educational shifts that are critical for addressing climate change. Today we're seeing the next step in the journey, as Ten Strands and its partner organizations join hands with educators to create initiatives that will implement those principles and concepts more fully into classroom teaching. 
The timing of those initiatives, in particular the new Climate Change and Environmental Justice Program, is particularly noteworthy. It comes at a time when the global conversation about climate change appears to be hitting an inflection point. Part of the reason I think so stems from my recent volunteer efforts to get the word out about a project called The Carbon Almanac. The Almanac was created by more than 300 volunteers from across the globe who started working together in the fall of 2021. The book was published just months later, in July of 2022.
This volunteer network has grown from 300 to more than 2,000 as people from all over the world are joining hands—and working together online—to amplify the conversation about climate change and the need for systemic solutions. 
If you're concerned about climate change, and perhaps sometimes frustrated trying to talk about it, The Carbon Almanac is worth reading. The authors describe it as "the definitive source for facts and the foundation for a global movement to fight climate change." 
At more than 300 pages, it doesn't seem like a quick read, but it is at times quite entertaining. I would also argue that it is an essential book to have at your fingertips because it's eminently readable and easy to navigate. It also uses memorable language and provides a doorway for going deeper on any topic. 
Do you need to quickly summarize the connection between human activity and climate change? A quick two pages lays out the evidence that the main culprits are the "four horsemen of the carbon apocalypse": coal, combustion, cows, and concrete. 
Want a clear explanation of what thawing permafrost has to do with California's wildfires? Check out page 142 and dig deeper for the sources of the information through a web-based link. You'll find an 11-item bibliography on the subject.
My favorite parts are the 80 pages devoted to Solutions and the 25-page Resources section. The latter includes a compendium of books, films, and organizations that provide next steps. The book sits as a constant reminder that those of us wanting to make a difference on climate change are not alone.
A wealth of companies and nonprofit organizations, including Ten Strands, are also signing on as partners of the Carbon Almanac Network. The Carbon Almanac website tells the story and is an invitation to engage. 
Along with writing and publishing an authoritative volume about climate change, the group is creating a wealth of free resources. Several directly support the environmental literacy efforts going on in California. 
The Educator's Guide helps teachers turn some of the content of The Almanac into lesson plans. As is true with The Almanac generally, this is going forward as a collective effort. There is a spot for feedback about this guide and a form where teachers can submit additional lessons. In addition, the creators involved in the Educators' Group at the Carbon Almanac have put together several interactive lessons on SeeSaw. The website also has a resources section broken into topics, including one called Education Resources About Climate & Sustainability.
One of the most exciting resources for educators and families is a kids' book titled Generation Carbon. The book itself is just the tip of the iceberg in terms of free resources directed specifically at kids, and more are in development all the time.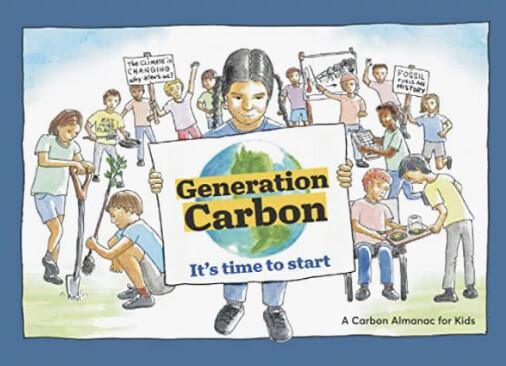 The ebook is available as a free, downloadable PDF. In addition to the English version, there are a huge and growing number of translations, including one done in Dyslexie Font for students with reading disabilities. The Generation Carbon collection also includes a newly created audiobook read by kids, a YouTube Channel, and a Podcast series. The latter two invite kids to submit their own contributions. (The adult-targeted podcasts are also worth a listen.)
Perhaps the greatest impact that The Carbon Almanac has had on me is as proof of the power of connection and collective action. Instead of feeling hopeless about climate change, I now feel empowered and much better informed. It's a wonderful addition to the environmental literacy conversation.